EFH Map Service Help
This page presents a collection of web map services organized about the themes presented in Appendix C,D, and E fo the Phase 1 Report and the subsequent Synthesis Report. Where other pages have presented zipfile downloads, the services provided here are live and meant for use with vairous web mapping software applications. Your choice of service depends upon which web mapping software you have available or you prefer. Briefly, free online options include:
Map Service Theme: Thematic map groupings correlating to map graphics presented in either the Pacific Coast Groundfish 5-Year Review of Essential Fish Habitat Report to the Pacific Fishery Management CouncilPhase 1: New Information or the Agenda Item D.6.b: Groundfish Essential Fish Habitat Synthesis Report.
ArcMap Layer File: An ArcMap .lyr file is directly readable by ArcGIS Software. Pressing this button downloads a .lyr file to your computer. The file does not contain actual data, but rather links to the data provided via our map server and includes display and rendering specific properties.
Google Earth KMZ: KML (Keyhole Markup Language) is an XML-based language for managing the display of three-dimensional geospatial data in Google Earth, Google Maps,Google Mobile, ArcGIS Explorer, and WorldWind. (The word Keyhole is an earlier name for the software that became Google Earth; the software was produced by Keyhole, Inc, which was acquired by Google in 2004. The term "Keyhole" actually honors the KH reconnaissance satellites, the original eye-in-the-sky military reconnaissance system now some 30 years old.) KML files are often distributed as KMZ files, which are zipped KML files with a .kmz extension. The files available have been tested in Google Earth version 4 and may not work in previous versions.
PaCOOS Map Viewer:This button takes the user to a custom Web mapping application designed specifically for the PaCOOS West Coast Habitat Portal at OSU. This viewer loads to your web browser and requires Microsoft Silverlight. Please test your browser to be sure that Silverlight is installed. The official MS Silverlight test page is located at: http://www.microsoft.com/getsilverlight/Get-Started/Install/Default.aspx. Please also refresh your browser cache periodically to ensure that your get a current application configuration when you load the Map App. To clear your IE cache use the Developer Tools (F12, then Ctrl+R), for Mozilla Firefox use F5.
Launch the PaCOOS Viewer to view any of the map services below: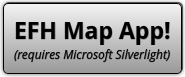 Map Service Theme
ArcMap Layer File
Google Earth KMZ
Habitat Maps Pre 2005
Habitat Maps 2005 - 2011
Regional Bathymetry
Fishing Effort
Biogenic Habitat
Synthesis Report Base Layers
Synthesis Report Physical Habitat
Synthesis Report Biogenic Habitat
Synthesis Report Modeled Species
Synthesis Report Fishing Impacts
Synthesis Report Non-Fishing Impacts
Pink Shrimp Trawl VMS (new 2015!)
RCA Closed Areas (new 2015!)